YOUNG A&S ALUMS MAKING THEIR MARK
The College and Graduate School of Arts & Sciences prides itself for not only providing its students a challenging and wide-ranging liberal arts curriculum but also for its long track record of arming them with the flexibility and critical-thinking skills needed to excel in a variety of career fields. There is no shortage of young alumni and recent College graduates who are already standing out in the arts, academia, the nonprofit world, corporate America and other ventures.
A&S Magazine recently caught up with five of them for this series.
ALREADY IN THE SPOTLIGHT
FILMMAKING AND ADVOCACY WORK OPENING DOORS FOR STUDIO ART GRADUATE
In her first year after graduating from the College with undergraduate degrees in studio art and global development studies, Michelle Miles feels she has "hit the jackpot."
Long interested in the world of fashion, she now lives in one of its epicenters, New York City. The move immersed her in a thriving community of disabled artists and disability advocates, allowing her to remain engaged in the types of projects and initiatives she served at UVA. Her time in New York also included a January detour to Park City, Utah, home of the Sundance Film Festival. "How Did We Get Here?", a short film that Miles made as a student, was screened in the prestigious festival's "New Frontiers" short-film category. Sundance organizers also invited Miles to speak on a panel titled "The New Aesthetics of Disability."
As a UVA student, she served on committees tied to various initiatives to improve accessibility on Grounds as an advocate for disability rights.  She now works at New York's Metropolitan Museum of Art as its Access and Education intern. As an artist living with a disability, Miles says she has been "very warmly welcomed into the disability arts community in New York." According to Miles, she has connected with people who have opened opportunities to deepen her knowledge of disability and accessibility issues within the arts while assisting her enthusiastic pursuit of the study and critical analysis of a variety of subjects.
"This for me is a complete year of saturation," says Miles, who grew up in Charlottesville. "I keep telling everyone that I am marinating in all my experiences."
Miles's success with her first film — a short documentary made with a high school friend at a summer camp at Charlottesville's Light House Studio — prompted her to pursue filmmaking at UVA. That film, "Beatrix," about artist and style icon Beatrix Ost, won the Best Short Documentary prize at the 2015 Los Angeles Festival's Future Filmmakers competition. The festival's director encouraged Miles to continue making films, leading Miles to study under UVA studio art professor and filmmaker Kevin Jerome Everson (see story on page 18), an experience that reshaped her goals to a serious pursuit of art.
 "How Did We Get Here?" her four-minute short that screened at Sundance, is "a study in how microscopic changes often go unnoticed but amass over time." The film unfolds with almost imperceptible movement, in near silence.
"Four minutes is a long time to be sitting in silence staring at something, especially in the world we live in now," she says. "It is this beautiful moment of everyone sitting in stillness and quiet together and looking at an image and having their own experience deciphering what it means to them."
—  Caroline Kettlewell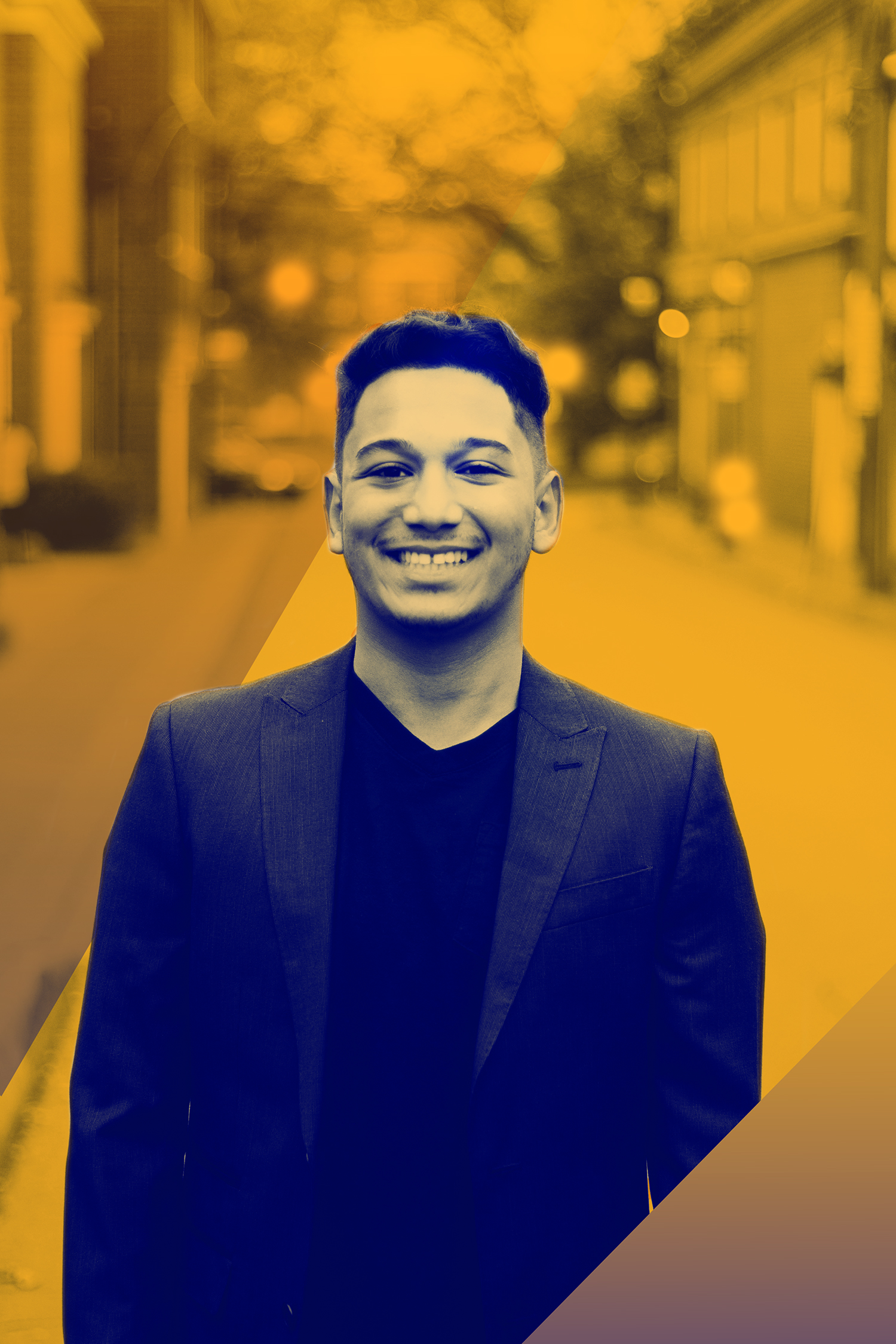 AN ENTREPRENEUR FOR GOOD
SHAFAT KHAN WORKING TO PROMOTE THE NEXT GENERATION OF 'CHANGEMAKERS'
Born and raised in Bangladesh, Shafat Khan (South Asian cultures and languages '19) followed his older brother's footsteps to attend UVA. On Grounds, Khan partnered with three classmates to found Shakti Apparel, a social enterprise that partnered with microenterprises led by young women in rural villages in India who stitched clothing products.
Shakti Apparel won the UVA Entrepreneurship Cup, a competition for UVA students to raise funding for startup ideas, and participated in the Darden School's W.L. Lyons Brown III Innovation Laboratory incubator. Within four months, Shakti Apparel created a systemic shift in how women entered the formal workforce within the Indian villages where they worked while promoting ethical clothing consumption.
Since graduating last May with a degree in South Asian cultures and languages and a minor in entrepreneurship, Khan has been working in Rosslyn, Virginia, as a program coordinator with Ashoka, an international group that has supported social entrepreneurship for 40 years. Khan specifically works on Ashoka's Youth Venture, which focuses on young "changemakers" and entrepreneurs in the United States in partnership with companies such as General Motors and T-Mobile.
Khan credits the College of Arts & Sciences for preparing him to take on a variety of challenges within the world of social entrepreneurship.
"The most important thing that UVA taught me was how to learn," he says. "It helped me learn how to think of solutions in a non-linear way. You learn to approach challenges through so many different angles and to come up with creative solutions from not only your study of economics but from philosophy, anthropology and other fields. Coming to UVA was truly a blessing."
—  Lorenzo Perez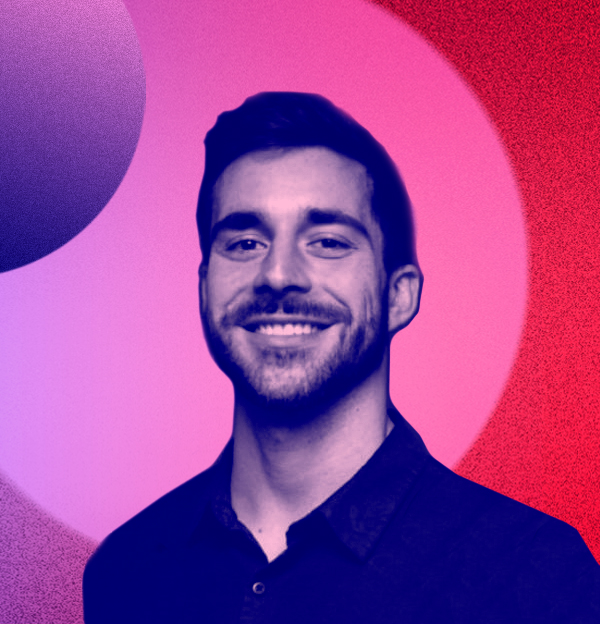 ADAPT AND EXCEL
ECONOMICS GRADUATE MIKE SHEBAT PLAYING A KEY ROLE IN GROWTH OF UBER EATS
As a UVA student, Mike Shebat (Economics '14) taught swim lessons to children in the Charlottesville community, held a leadership position in UVA's Venture Capital Club, took a "Strategies of Entrepreneurship" course and spent his summers interning for the U.S. Department of the Treasury, the Blackstone Group and Goldman Sachs.
Shebat could have easily earned an entry-level position in the competitive world of finance after graduating. Instead, he took a West Coast position in the management training program of McMaster-Carr, an industrial supply company. Shebat supervised employees on a factory floor because he wanted to learn how to lead a diverse team and to develop a business strategy. The year-and-a-half he spent with the company led to a 2016 job offer from Uber; the ride-hailing company was launching its meal delivery service, Uber Eats, and Shebat came on as an early operations and logistics manager.
In that role, he helped grow Uber Eats from a six-city pilot to a lucrative meal-delivery program that generates billions of dollars in gross bookings. His career with Uber has taken him to more than 15 countries, including a year in Brazil, where he launched Uber Eats. He also spent six months in Amsterdam, managing a pilot for a new product in Paris. He currently works out of Miami as a senior strategy and innovation manager for Uber, identifying new business opportunities and overseeing their operational rollout.
Shebat credits the College's Department of Economics and his liberal arts education with preparing him to adapt and succeed in a hyper-competitive industry.
"Working on a product that experiences extremely fast growth brings a unique set of challenges, as certain processes can't be sustained. You're constantly hiring new employees, generating business cases for product improvements and restructuring processes that don't scale," Shebat says. "You have to be super comfortable with change, because every couple of months, the job changes as the business evolves."
Shebat says studying economics at UVA provided a great foundation for his career.
"Courses in macroeconomics taught me how unemployment rates, GDP growth and regulations can influence business policy. I've incorporated these lessons in developing go-to-market strategies for different international markets," Shebat says. "In addition, learning about supply and demand has influenced how I optimize a marketplace of drivers, restaurant partners, and users." 
Within the next 10 years, Shebat says he hopes to launch his own company.
"I hope to use the experience I've gained to start a company that's a positive impact on the world," he says. "Recently, I've been fascinated with the 'future of work.' As certain industries change and new skills become in-demand, what solutions exist for people to continue to feel fulfilled and add value to the broader economy?"
— Lorenzo Perez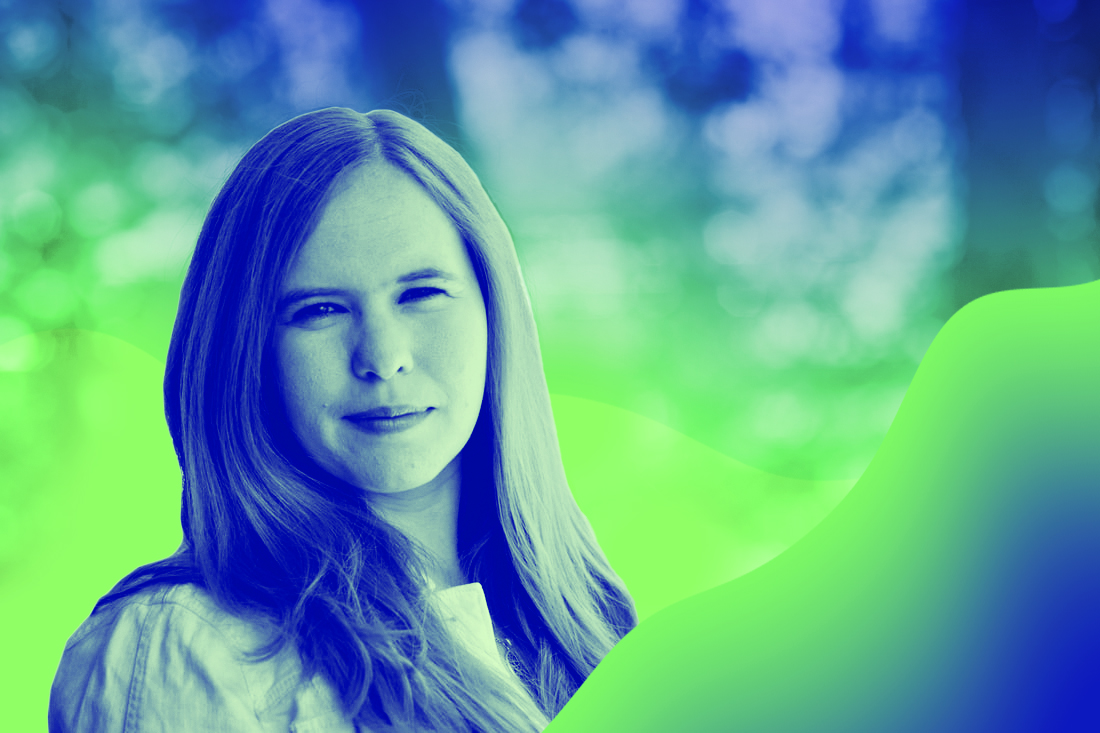 NOTHING BORING HERE
PSYCHOLOGY PROFESSOR ERIN WESTGATE CREDITS HER GRADUATE SCHOOL EXPERIENCE WITH LAUNCHING HER RESEARCH, TEACHING CAREER
Erin Westgate (Ph.D. '18) was still a relatively new graduate student in UVA's Department of Psychology in 2014 when her study suggesting that people would rather suffer electrical shocks than be alone with their thoughts made national news.
Since completing her Ph.D. in social psychology in 2018, Westgate has become an assistant professor at the University of Florida, where she directs the Florida Social Cognition and Emotion Lab. Her lab explores where emotions come from and how they shape our behavior. One of her important findings is that boredom may help us understand why people may lapse into substance abuse and other antisocial behaviors.
"Boredom tells us that what we're doing isn't worthwhile," Westgate says. "It's not that boredom makes people be bad, it's that boredom makes you want to do something else, and if the only option is a bad one, people will take it — even though they'd prefer to do something better."
As Westgate begins teaching her first graduate students this year, she hopes to emulate her experience at UVA's Graduate School of Arts & Sciences.
"I'd be very happy if my students got a tenth of the experience I had at Virginia," she says. "It's a role model for what the graduate experience should be like."
— Russ Bahorsky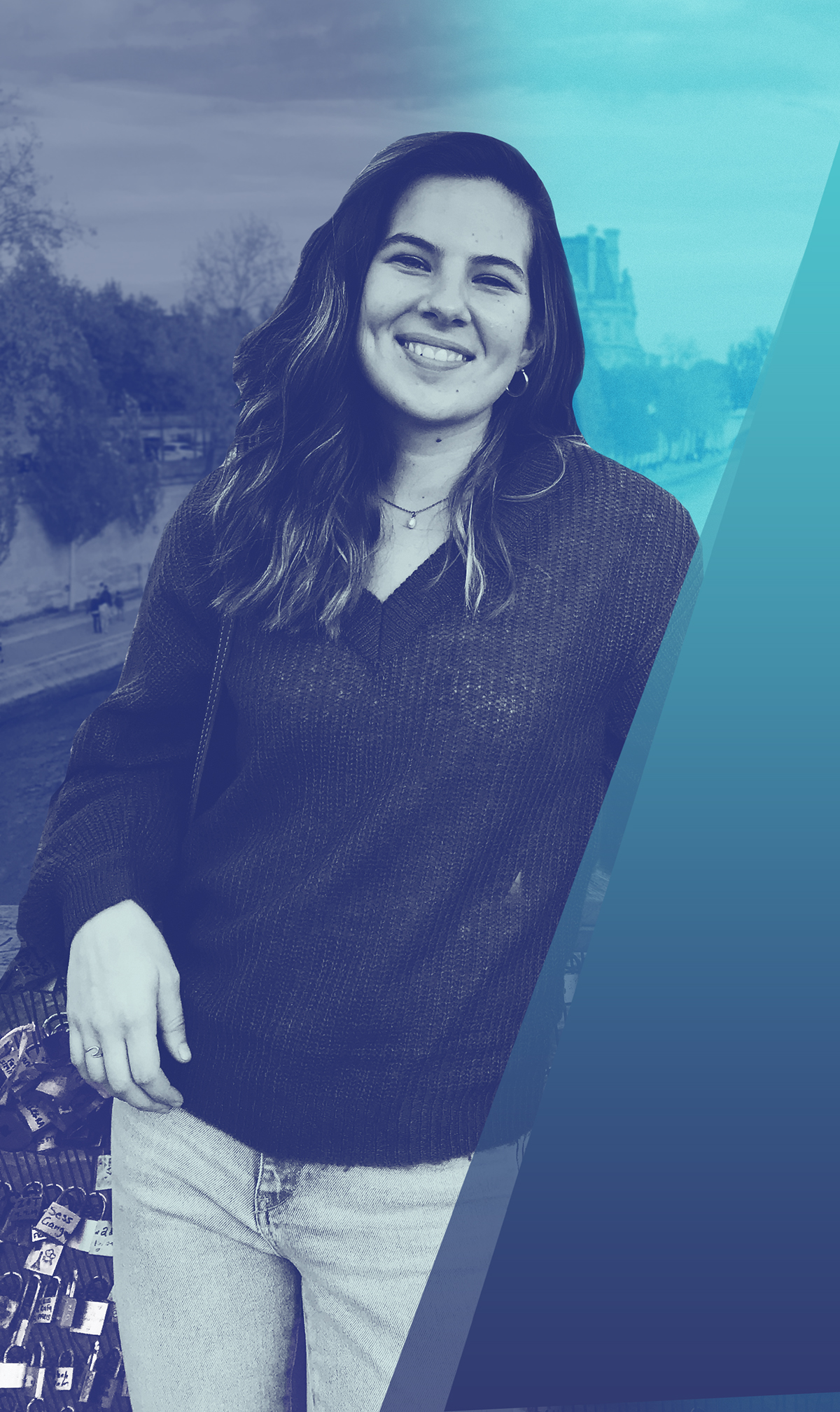 A BUBBLY TOAST TO SCIENCE AND ART
CHEMISTRY GRAD ASPIRING TO MASTER THE CHAMPAGNE BUSINESS
Harriet Kiers (Chemistry '19) is capitalizing on her recently completed degree, as well as the four French classes she took in the College, to help her family break into the sparkling wine business.
Kiers grew up harvesting grapes and trimming vines at her family's farm near Staunton, Virginia. Last summer, after graduating, she moved to Merrey-sur-Arce, a small village in France's Champagne region to start a wine-making apprenticeship with Champagne Lacroix Triaulaire. Working in the fields, the warehouse and the business office of the Champagne maker, Kiers is learning the ropes in the hopes of helping Ox-Eye Vineyards, her family's vineyard, move into the sparkling wine trade.
"They sometimes poke fun at me and say, 'Spy over here, getting information,' but it's all in good fun," says Kiers, who transferred to UVA after completing an associate's degree at Piedmont Community College.
Winemaking is equal parts science and art, Kiers says, making her chemistry degree useful and immediately relevant to her apprenticeship. This winter, for example, Kiers assisted with the tirage process, when Champagne makers add yeast and sugars to create the second fermentation that transforms still wine into sparkling wine.
Although Kiers admits to being a procrastinator when she was younger, her time as a College student helped cure that. She learned to stay on top of her chemistry classes while getting up early six mornings a week to practice with the UVA men's rowing team as one of its coxswains.
"I loved UVA to bits, all of it. And being able to do a bachelor of arts in chemistry was so much more flexible. I still had time to take arts classes and literature classes, which I've always enjoyed. It's great to have that option," she says.
Kiers remains focused on her long-term vision as she looks to deepen her Champagne-making knowledge with a second apprenticeship this summer.
"Hopefully, 10 years from now, you'll be able to find an Ox-Eye sparkling wine on the shelves," she says. 
— Lorenzo Perez