No UVA school covers more ground than the College and Graduate School of Arts & Sciences. Students follow such a variety of academic paths, majoring in economics, chemistry, English, media studies, psychology, environmental sciences and approximately 45 other academic departments and programs. This semester, a new College program provides tools to students seeking to maximize the strengths of their studies across liberal arts and sciences as they consider their professional ambitions.
The University offers a variety of ways for undergraduates to prepare for careers after college. What differentiates Catalyst is its design as a comprehensive, 17-credit program in the College with a dedicated core faculty. The tailored curriculum includes courses in quantitative literacy; leadership, collaboration and communication; global perspectives; as well as "skill accelerators" in coding, analysis, professional writing and other marketable areas that prepare students for a variety of professional opportunities. In addition, Catalyst students pursue internships as part of their capstone experience.

With an enthusiastic response from student applicants, Catalyst organizers admitted 35 students — more than originally projected — for its debut semester. A second cohort will begin in the spring semester. Funding for Catalyst is provided by a philanthropic endowment. There is no additional cost to students associated with Catalyst beyond the normal cost of College tuition.
"We see this process as something that should be an integrated part of every student's course of study, no matter their major, through a focused and semester-based curriculum," said David Flood, the Catalyst program director and a sociocultural anthropologist who earned his Ph.D. at UVA. "Our students are getting a phenomenal education within the College. After graduating, they will continue to draw on the knowledge they've gained here, as well as the habits of mind and the research skills developed within the College. What Catalyst offers is an opportunity to gain practice applying that education to the types of professional fields and vocations they may be considering. Helping them make those connections is an approach that students find useful and critical."
Working collaboratively, sharing perspectives
Asst. Prof. Charlie Gleek, who holds doctorates both in cultural and literary studies and in educational leadership, collaborates with Flood and teaches Catalyst seminars. Gleek said students in the program have told him they are looking for ways to synthesize their learning experiences as UVA students in ways that can help them envision the possibilities awaiting after graduation.
"We have literary studies students, anthropology majors, cognitive science majors and computer science majors, all of them in the same classroom working collaboratively. And they're able to gain a better understanding of what the world of work might look like for them," Gleek said. "It offers them a grounding and a sense of security allowing the students to say, 'Oh, OK, this will all be fine. I'll be able to go into the world well prepared drawing on my great liberal arts education and the curricular program that Catalyst offers me.'"
Among the group projects assigned to the first cohort of Catalyst students is the collaborative drafting of white papers defining a housing-related issue in the Charlottesville area. Second-year Catalyst student Sean Goodhart said what intrigues him most about the program is the opportunity to collaborate with students from different majors who have a variety of perspectives on projects.
"That's something that I feel many people lack: the collaborative aspect of the real world, and I've found it really valuable so far," said Goodhart, an Environmental Thought and Practice major who is also pursuing an urban planning minor in UVA's School of Architecture. "This class is my favorite class so far. A big part of it focuses on critical thinking, teaching us to think about the 'why' behind the 'why'. Professors Flood and Gleek are great, and I feel like just in general we're gaining so many 'soft' skills here that are applicable to the real world."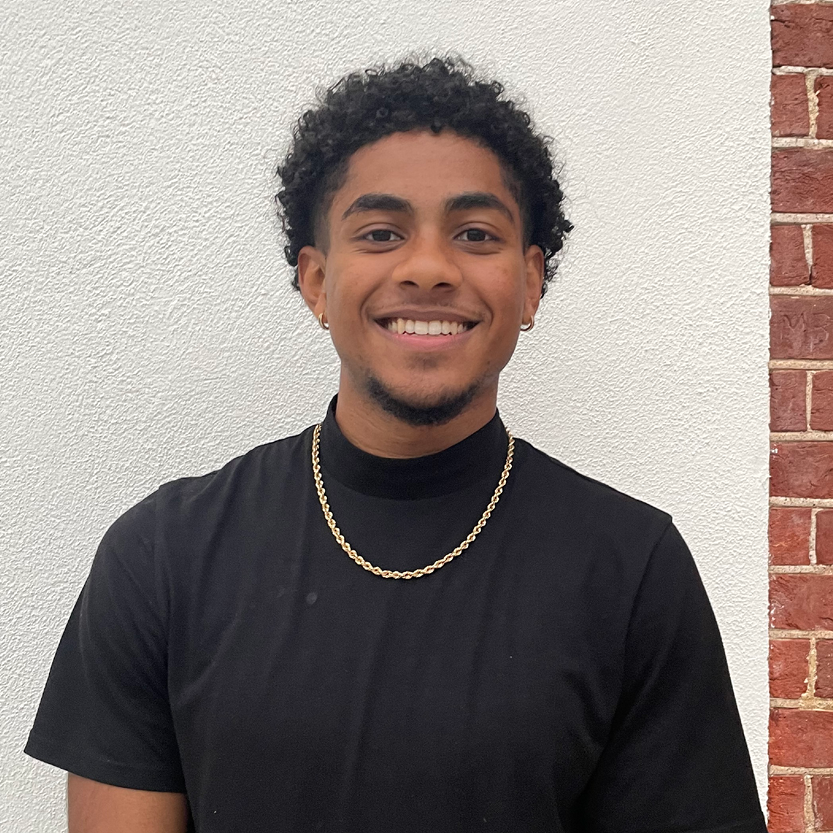 Classmate Syrell Grier, a second year from Woodbridge, said he is looking forward to next semester's "Arts and Sciences: From Theory to Practice" class, which aims to help its students learn to communicate more effectively in the work world the broad range of conceptual abilities they develop as liberal arts and sciences students. This semester, he is also taking a Skills Accelerator class called "Ethnographic Techniques for Business and Development." Taught by Tess Farmer, an assistant professor in the College's Department of Anthropology and Global Studies program, the course covers how companies like Meta, Alphabet and Amazon, as well as government institutions, employ ethnographers to help understand what people are doing and why.
"I've really enjoyed that class," Grier said. "Learning that ethnography is actually applied to things like businesses and development has been really cool."
Advice from A&S graduates
Starting in the spring, Catalyst students will learn from College alumni who are both serving as class speakers and providing career advice sessions. The concept began with a class this fall called "Using Your Arts and Sciences Degree." Taught by Gleek, the seminar features panels of guest speakers including A&S faculty and College alumni discussing the career paths they've taken.
"What Catalyst is doing is helping students come to understand that their arts and sciences degree, whether it's in statistics, or cognitive science, or African American studies, prepares them for life beyond Grounds," Gleek said. "We act as connective tissue bridging that gap so that students come to see and are able to communicate the value of the liberal arts and sciences education."
"It offers them a grounding and a sense of security allowing the students to say, 'Oh, OK, this will all be fine. I'll be able to go into the world well prepared drawing on my great liberal arts education and the curricular program that Catalyst offers me.'" - Asst. Prof. Charlie Gleek
Earlier panels of guest speakers included UVA's Marvin Rosenblum Professor of Mathematics Ken Ono, an award-winning mathematician who took a circuitous route to academia that included a detour as a competitive cyclist and a Team USA spot in the International Triathlon Union, and Mary Kate Cary ('85, Foreign Affairs), a White House speechwriter for President George H.W. Bush and current practitioner senior fellow in the Department of Politics.
Michael Guthrie ('87, Economics), the chief financial officer at online gaming company Roblox, spoke to Gleek's class last month, highlighting how a liberal arts background prepares students to embrace a lifelong appetite for learning needed in the workplace.

"In my 35 years of working, so far, I've met liberal arts majors in all kinds of jobs, in very senior roles," Guthrie said after the class. "Very successful people who are English majors, art history majors, economics majors, math majors, … a liberal arts degree has a ton of value and it's important to give students the confidence that there are great things out there for them as liberal arts majors.
"The liberal arts and sciences anchor students in understanding how their education is in fact going to be super valuable in the workplace. It's such an intimidating time, when young people are going from a college environment which is very structured and then trying to figure out where they want to start building their careers. So, if the College can help them transition in any way, in particular liberal arts majors so they understand the relevance of their degrees to a career in business, that level of confidence and direction is just incredibly valuable as people are coming out of school."
On a separate evening, alumni panelist Curtis Ross ('92, Government) discussed with Gleek's students his path translating his UVA experience as an editor of the Cavalier Daily and 4th-year class president into a career in textbook publishing.
"Whether you're selling someone a product or service, or yourself, the training you received in four years of your liberal arts education at UVA is a skill you're never going to lose," Ross recalled telling them. "If you remain true to yourself and believe in what you're doing, you will gravitate toward a path of success."
That's a message that resonates with Catalyst student Noor Afzal, a fourth-year student from McLean, Virginia.
"I looked at Catalyst as a way to add on to what I've learned at UVA, because it's helping me develop skills employers are looking for," Afzal said. "I'm an English major, so I'm open to everything: publishing, journalism, media, even government or nonprofit work. I'm open to anything right now, and Catalyst is helping me explore those options."