Faculty and alumni of the College and Graduate School of Arts & Sciences have published more than 60 books already this year. Here is a sampling: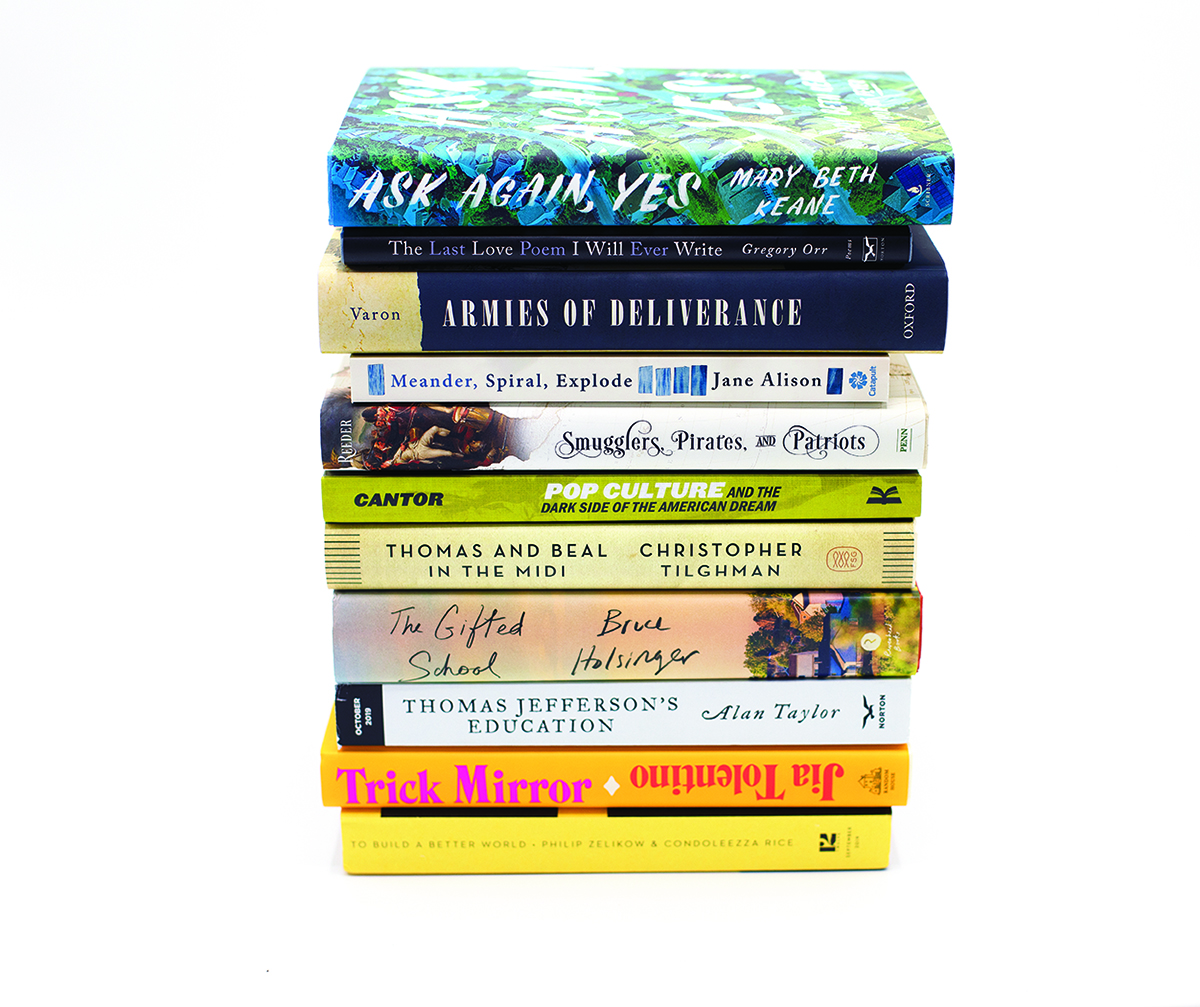 Ask Again, Yes:  The third novel by alumna Mary Beth Keane was named one of Goodreads' "Hottest Reads of Summer." Keane also appeared on NBC's "The Tonight Show" in August after host Jimmy Fallon selected this New York Times bestseller about two New York City cops and their families as the show's "Summer Reads Pick."
---
Armies of Deliverance: A New History of the Civil War: The Washington Post praised Elizabeth Varon, associate director of UVA's John L. Nau III Center for Civil War History, for crafting "some of the finest battle writing around" and for her sweeping analysis of Union and Confederate strategy and tactics.
---
Thomas Jefferson's Education: One of the premier experts on Colonial America and the early U.S. republic, Alan Taylor has won two Pulitzers for previous books. His latest examines Jefferson's campaign to save Virginia through education, revealing the origins of the great university he envisioned in the dilemmas of slavery — as well as the efforts of Jefferson's granddaughters, who redeem the best parts of his legacy.
---
Trick Mirror: This debut essay collection from alumna and New Yorker staff writer Jia Tolentino debuted in August to strong reviews, including Kirkus Review's praise for the "nine stunning pieces" and her ability to seamlessly meld together "journalistic social criticism and revealing personal essays."
---
To Build a Better World: Philip Zelikow, executive director of the 9/11 Commission and former Miller Center director, collaborates with former Secretary of State Condoleezza Rice to produce a definitive account of how the Cold War was brought to an end, and how that resolution created our geopolitical present.
---
1. Ask Again, Yes [Simon & Schuster] by Mary Beth Keane (MFA Creative Writing '05).
2. The Last Love Poem I Will Ever Write [W.W. Norton & Company] by Gregory Orr (Professor Emeritus, English).
3. Armies of Deliverance: A New History of the Civil War [Oxford University Press] by Elizabeth R. Varon (Langbourne M. Williams Professor of American History).
4. Meander, Spiral, Explode: Design and Pattern in Narrative [Catapult] by Jane Alison (Professor of English).
5. Smugglers, Pirates and Patriots [University of Pennsylvania Press] by Tyson Reeder (affiliated Assistant Professor of History).
6. Pop Culture and the Dark Side of the American Dream: Con Men, Gangsters, Drug Lords and Zombies [University Press of Kentucky] by Paul Cantor (Clifton Waller Barrett Professor of English).
7. Thomas and Beal in the Midi [Farrar, Straus and Giroux] by Christopher Tilghman (Professor of English).
8. The Gifted School [Riverhead Books] by Bruce Holsinger (Linden Kent Memorial Professor of English).
9. Thomas Jefferson's Education [W.W. Norton & Co.] by Alan Taylor (Thomas Jefferson Foundation Chair, History).
10. Trick Mirror: Reflections on Self-Delusion [Random House] by Jia Tolentino (English, Political and Social Thought, '09).
11. To Build a Better World: Choices to End the Cold War and Create a Global Commonwealth [Twelve] by Philip Zelikow (White Burkett Miller Professor of History) and Condoleezza Rice.