Students, the College and the art world benefitting from tireless work of celebrated art professor Kevin Everson
BY CAROLINE KETTLEWELL
The lengthy list of national and international awards, recognitions, and accolades that art professor Kevin Everson has earned over the course of his career are a testament to his wide-ranging contributions as a critically acclaimed artist, filmmaker and inspirational mentor to McIntire Department of Art students aspiring to follow in his footsteps. His work has been honored at international film festivals, with multiple fellowships and through presentations and retrospectives at museums from New York to Paris. His interdisciplinary collaborations with other Arts & Sciences professors have earned similar praise, and Everson's efforts to transform the educational experience of the students he includes in his work prompted the University in 2016 to honor him with its most prestigious teaching award, the Cavaliers' Distinguished Teaching Professorship.
Most recently, Everson was nationally recognized with a Heinz Award in the Arts & Humanities, a prestigious honor that comes with a $250,000 prize in recognition of "the extraordinary achievements of individuals" in arts and humanities and other fields. In announcing the 2019 awards last fall, the Heinz Family Foundation called Everson "one of the most respected artists working in film and media today."
Everson, meanwhile, shows no interest in slowing down for a victory lap. A member of the Arts & Sciences faculty since 2000, Everson remains a prolific and boundlessly curious artist and filmmaker. He has made nine feature-length films and more than 160 short films. Reflecting his interest in what he calls "the uses of time as a form," some of his films are as short as a minute, others much longer; "Park Lanes" and "8903 Empire" both stretch across a full eight hours.
His films explore a variety of themes, topics and ideas. "Fillmore," as described by his filmography notes, "is about an odd thing on the streets of Buffalo, New York," while "Vanessa" "is about loss and Michelangelo." The moon, automobiles, rodeo, people at work, the weather, Everson's hometown of Mansfield, Ohio, and "two talented acts waiting to perform in Sammy Davis Jr.'s ill-fated 1973 telethon for highway safety" — all have been objects of his cinematic inquiries.
ENGAGING COLLEAGUES AND STUDENTS ON IMPORTANT FILMMAKING
Within the College and Graduate School of Arts & Sciences, Everson continues to work closely with Claudrena Harold, chair of the Corcoran Department of History. Their "Black Fire" project features a series of short films about the history of African American students and faculty at UVA. Although inspired by archival information, the films are experimental works rather than documentaries, Harold says, shot in a style that evokes the powerful sense of immediacy and intimacy of documentary footage. Harold describes how, for example, the discovery of a 1974 photo of two African American UVA students playing foosball inspired a two-minute scene in their first film, "Sugarcoated Arsenic."
"One of the hallmarks of Kevin's filmmaking is its casualness; he was drawn as well as I to pictures that had this casual aesthetic, that showed people in the process of making community," Harold says. "It reminds us that even amid great political upheaval and social unrest, students also engaged in play."
Harold, who calls Everson "a brilliant artist, innovative teacher and a very generous colleague," says that her own scholarship as a historian has been informed through these collaborations. "I have become much more attentive to matters of form and aesthetics," she says. She also notes that working with him "has provided me with a great deal of insight on his indefatigable work ethic."
On the last day of the shoot on "Sugar-coated Arsenic," Harold says, "Kevin turned around, and looked at me and said, 'What are we going to do next?'"
The answer — to this point — is eight finished films, with a ninth in process; the most recently completed film, "Black Bus Stop," was screened at last fall's New York Film Festival. All of Everson and Harold's "Black Fire" films are shot with the participation of UVA students as actors and crew. For those students, the educational value of the experience lies not only in the opportunity to investigate history, but also, says Harold, in her hope that "our collaborations  provide our students with an example of the value of interdisciplinary, collective work."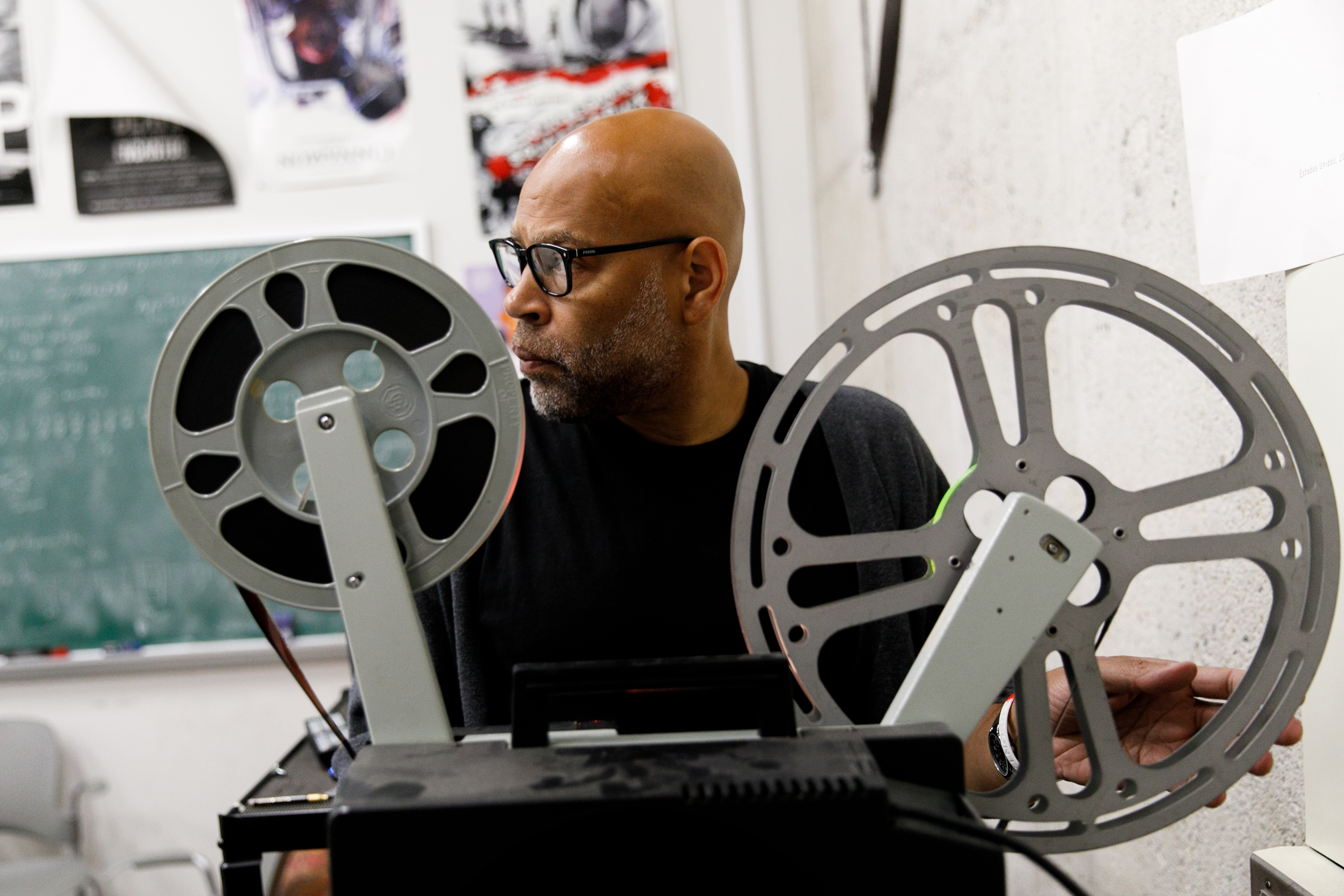 ARMING STUDENTS WITH A WORK ETHIC AND ARTISTIC AMBITION
Famously, Everson won't show his own films in his classes. A dedicated teacher who says "the students are on my mind all the time," he encourages students to figure out how to navigate their own technical and artistic challenges. Everson asks them "to be creative and invite people to their world," he says, so that whatever careers they pursue, "they know they can problem-solve, and they can have a vision."
"I like sharing information with kids and putting them in a position where they can succeed in life," he says. "I want them to take not my films but my work ethic with them."
Alumna Michelle Miles (global development studies/studio art, '19), already an accomplished young filmmaker, calls studying with Everson one of the most profoundly influential experiences of her time on Grounds (see page 4).
"Kevin gives students room to grow on their own," says Miles, who was invited by the Sundance Film Festival this winter to screen "How Did We Get Here?", a short film she made as a UVA student.
Everson pushes students to develop their own ideas and styles and methods, Miles says, but most importantly, "he really takes us all very seriously as artists." That respect, in turn, comes with the expectation that students take their own work and their commitment to it seriously, she adds.
"I had no intention of pursuing art in college," Miles says. "But I couldn't not pursue it after meeting him and being in his class for a semester or two."
As for Everson, his impact on future Arts & Sciences students and the art world will continue to ripple outward as the Heinz Award funds additional ideas. While he certainly appreciates the national recognition from the award, and the financial support it provides to pursue ambitious new projects, the drive remains the same.
"I am always going to keep making work," he says, "regardless if somebody recognizes me or not."