Adapting Education in a Time of Pandemic
By Lorenzo Perez
This is not how fourth year Claire Schweiker envisioned her last semester at the University of Virginia. She's watching online class lectures from her bedroom and trying to complete her thesis research for the Department of History's distinguished majors program without access to primary documents in libraries that are now closed.
Previously, her life outside the classroom was especially busy, with Schweiker's responsibilities as a Madison House volunteer center board member serving as a welcome distraction from the grind. Now, though, the closing act  of her college career is almost entirely an online experience, as it is for her professors and all her UVA classmates. Like the majority of us, they are sequestered in home offices, bedrooms and basement study spaces, re-inventing an academic semester derailed by the coronavirus pandemic.
"It's obviously difficult to focus," says Schweiker, who is also completing a second major in Spanish and a sociology minor. "When you take away the social element of school, being able to go into a classroom, being able to see all of your friends, it's really hard to focus on academics, because that's basically all that college is for us now, when in reality there's so much more to the college experience."
With the March 11 announcement that the University was moving all spring semester courses online and urging students to return home, the College had eight days to help its faculty move more than 4,000 spring classes online for the duration of the semester. In the three weeks that followed, Arts & Sciences faculty and their students adapted and refocused on their new reality.
Surprising benefits
Many faculty already had some familiarity with video tools like Zoom and other online resources to continue class work on group projects, shared documents and class discussions, but the College's Learning Design & Technology team quickly organized a series of instructional workshops and consultations before classes resumed.
"We've gone into the trenches with faculty in a way that we haven't typically before," says Judy Giering, director of the A&S Learning Design & Technology team. "Our faculty have not had the luxury of time to re-tool their courses. They've just been kind of on the go, figuring it out, asking questions as they go along. But I think that the principles that we're helping them focus on — keeping it simple, communicating frequently and demonstrating empathy — are carrying them through."
Professors such as Michael Levenson, the College's William B. Christopher Professor of English, feed off the energy of their students. Even a large lecture course like Levenson's popular "Global Cultural Studies" class features debate and conversation. Levenson wanted to avoid the monotony of a string of video lectures, so he reduced his scheduled lectures to PowerPoint highlights that the students could review as he lectured via Zoom. Then he opened the second half of each class to online questions. These virtual discussions have prompted students who are less comfortable raising a point in a large lecture hall to contribute from their keyboards, Levenson says.
"I wanted to try something different, because I worried that they would be a little bit defeated by having to watch one Zoom class after another," he says. "It can get a little relentless to say, 'Mom and Dad, I have to go upstairs to do another Zoom class.'"
First-year student Alannah Bell now shuttles between her childhood bedroom to study and the living room of her family's Richmond area home. She says that the use of Zoom's "breakout room" function during her statistics course's weekly discussion section and her online chats with classmates in her ENWR first-year writing course have helped her maintain momentum. At the same time, Bell says, her professors have made extra efforts to keep everyone connected.
"This movement online has been difficult for them and for us," Bell says. "If anything, some of my professors have offered more [virtual] office hours than they had before. That's definitely been helpful."
Reinventing the Classroom
Professors teaching science lab courses spent their spring break recording lab experiments and preparing data sets that they could share with their students to complete their lab requirements virtually. David Kittlesen, an associate professor of biology, purchased a new headset and webcam to make sure he could continue to hold his classes in real-time. He is teaching three courses this semester, including the lab component of "General Microbiology" and an upper-level "Intro to Immunology" course.
"My students have been every bit as interactive as they were when we were all in the classroom together," says Kittlesen, the winner of an All-University Teaching Award. "Students are volunteering, raising their hands and offering their ideas."
Kittlesen also credits Kay Christopher, the Department of Biology preparator for upper-level labs, for returning to the lab — before the University advised non-essential employees to stay off Grounds — to complete and record the semester's remaining labs for his "General Microbiology" class.
"Fortunately, with that course, the really crucial hands-on work and the techniques that the students needed to learn with regard to microscopy, inoculation methods, appropriately handling the microorganisms and learning the methods that avoid contaminating our materials, ourselves, … all those really crucial skills had already been covered," Kittlesen says. "What's new, in terms of their learning is the analysis, and that's 100 percent in place at this point."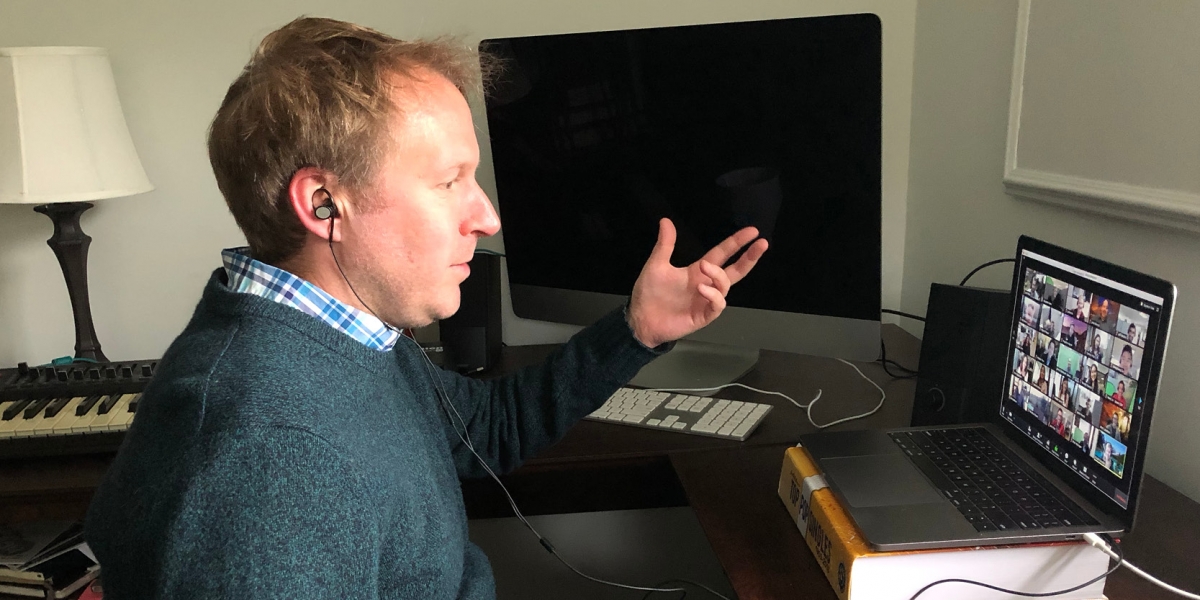 Other faculty have found it useful to "flip" their classes, uploading video lectures that their students can review on their own time so that virtual class time is devoted to discussion. Jack Hamilton, an assistant professor of American studies and media studies, taught himself how to use iMovie to weave video clips from music videos and other media into video lectures for his "Cultures of Hip Hop" class of 60 students. He also uses Handbrake, an open-source program that edits and compresses video files.
"It's good to have these tools in your back pocket, and there are probably ways they will inform how I put classes together in the future," says Hamilton, who is also teaching "Aural Histories," an 18-student seminar about sound media and the recording industry. "But with the second lecture, it was much quicker. "The main thing, though, is to give students an hour and 15 minutes, twice a week to take their minds off everything that's happening outside and offering some semblance of normalcy."
Rising to the Challenge
Psychology professor Bethany Teachman, whose lab studies anxiety disorders and how people regulate their emotions, says faculty members need to be mindful of the stress that their students are experiencing as they try to complete their semester apart from their friends and support systems on Grounds.
Even in this unfamiliar territory, Teachman says, UVA students are rising to the occasion.
"I've been sending my students different challenges. I'll say, 'OK, we want to help therapists who are treating social anxiety. How can they plan to do social anxiety therapy totally online? What are ideas about ways that they can help people be social?' I had my own small list of a few items … but within a short space of time, I had 20 absolutely fabulous suggestions that I never would have generated," Teachman said. "We are so fortunate at UVA to have absolutely phenomenal students," she said.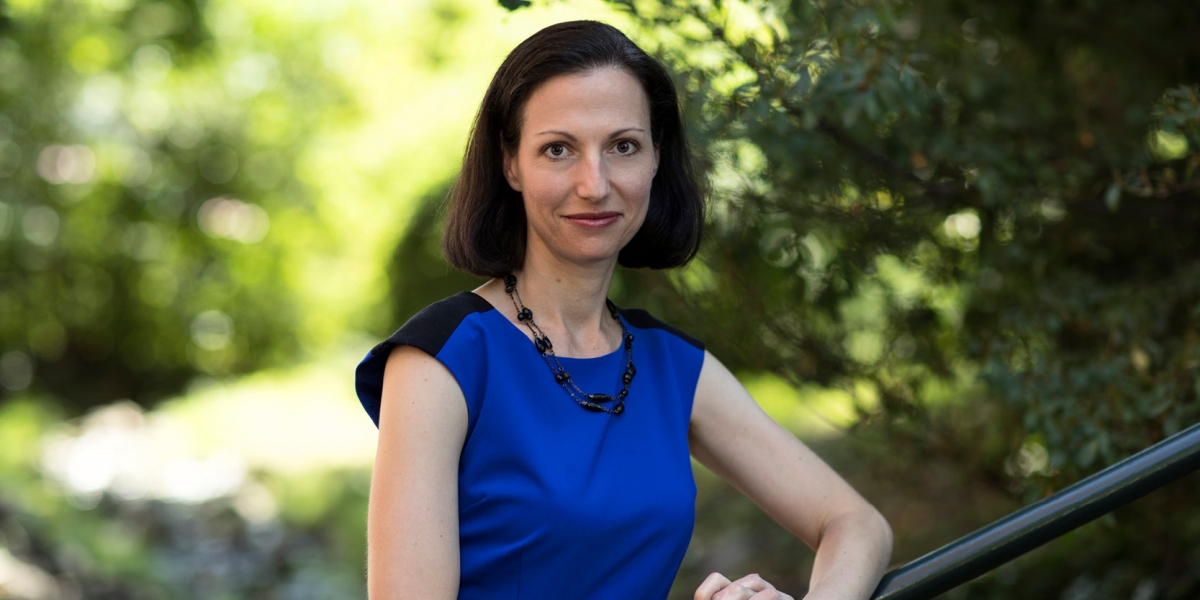 So many unknowns remain, particularly for fourth year students like Schweiker. She was looking forward to Final Exercises (the University is planning to virtually commemorate graduation, and possibly holding an on-Grounds ceremony in the fall) and beginning the next phase of her life. Schweiker was scheduled to move to Dallas after graduation for a social studies teaching job with Teach for America, but that's now on hold. Of course, other students have it much harder. COVID-19 has affected students' health, financial well-being, and career possibilities in significant ways.
"I personally have been trying to take things day by day. I start off the day writing down a list of the things I'm going to accomplish and also marking off that it's OK if I don't accomplish everything I set out to do in the morning," she says. "When things do get back to normal, who knows when, I think this might make returning students appreciate their college experience that much more, because they'll have understood what it's like when they don't have access to all the things about UVA that have defined their experience."