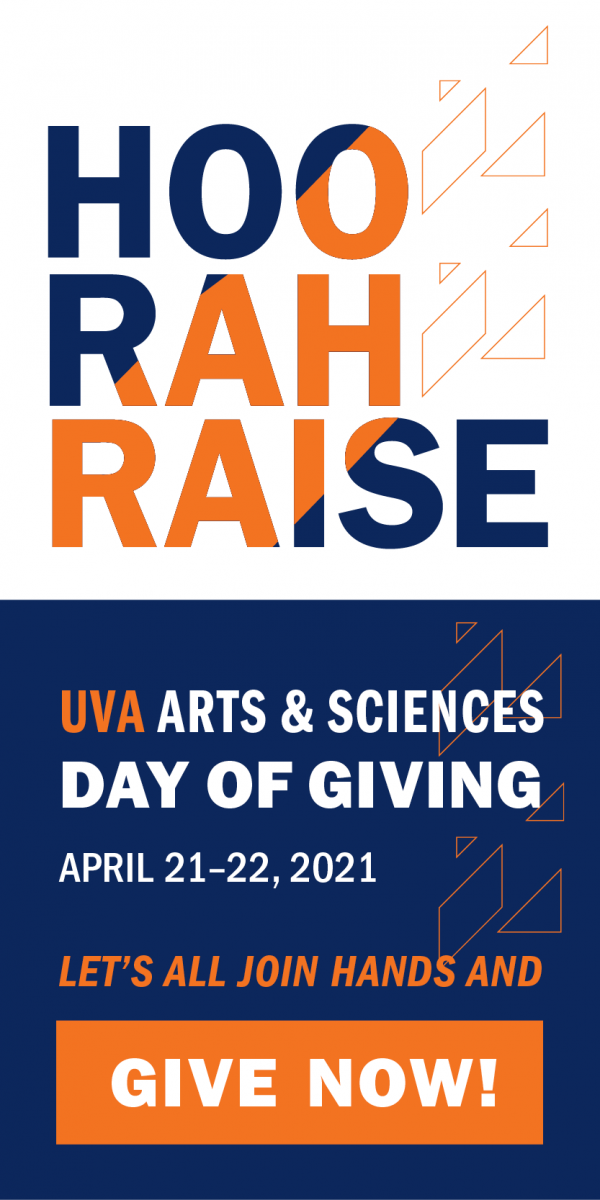 Like so many other University of Virginia students who graduated last spring, Chris Heishman was stressed. Any other May, his double-major College degree in economics and statistics likely would have secured him a handful of attractive job offers. In the middle of the COVID pandemic, though, companies were suspending recruiting efforts and canceling internship opportunities.
Heishman felt a sense of doom scrolling the bad news about the Class of 2020's job prospects, especially a Wall Street Journal article chronicling how the hottest labor market in half a century had evaporated.
Fortunately, he had the Economics Career Office (ECO) and its director, Jennifer Jones, to guide him. ECO, which was launched with alumni philanthropic support in 2013 within the College's Department of Economics to assist its students with career planning and professional networking, offered Heishman online career development classes and other opportunities to keep building his resume. Jones also connected him with a "Career Accelerator" program offered by the UVA Career Center, which led to a two-week internship with a social media startup. In multiple follow-up meetings with Jones, Heishman rehearsed mock interviews to figure out the best way to highlight his experience.
In January, after further advice from Jones on job offer negotiations, Heishman accepted a junior analyst position with the New York City office of Weber Shandwick, a global public relations firm.
"I kept reading that Wall Street Journal article, and before I met with Jen, my biggest takeaway was, 'I'm out of the game until the game gets better,'" Heishman said recently. "She told me, 'That's a really big mistake. To wait it out is not a strategy.' I followed her advice, and my hard work finally paid off. ECO's assistance was so essential and probably ended up being the deciding factor in my ability to get this job so quickly."
Opening doors of opportunity
Since ECO's creation, the only career-focused office within an Arts & Sciences academic department, it has helped hundreds of students connect with alumni and employers in a variety of fields seeking the analytical and transferable problem-solving skills developed within the study of economics. Under the direction of Jones and the guidance of faculty members, including Ken Elzinga, the College's Robert C. Taylor Professor of Economics, ECO has introduced a variety of services.
How did the Department of Economics become a more nurturing department that helps its students achieve their professional ambitions? Jennifer Jones and Ken Elzinga, UVA's Robert C. Taylor Professor of Economics, explain how the Economics Career Office fills that role.
ECO hosts undergraduate career forums that bring distinguished alumni back to Grounds to network with students. It offers individual advising opportunities for students just starting to research potential career paths, as well as for students looking to polish their resumes and prepare for job interviews.
And during a pandemic that has brought new career development challenges for students and graduates, ECO has forged partnerships with alumni and companies to create internship opportunities for economics majors looking for a needed edge in this job market.
"My major job with ECO is to let students know what opportunities are out there and how they can best prepare to avail themselves of those opportunities," said Jones, who has been with the Economics Career Office since its launch. "At any given point, we may have as many as 1,000 students majoring in economics, but having points of personal contact within ECO makes the department feel much smaller. With regular faculty and ECO communication, students feel like the Department of Economics, alumni and their professors are personally invested in helping them move forward in their career-related activities. This is just one more component to help a sense of community flourish and demonstrates the uniqueness of our model."

During the 2019-20 academic year, ECO conducted 31 different programs that put ECO staff, employers and UVA alumni in contact with 357 students majoring in economics. Those same events also featured the involvement of 75 College economics alumni and 13 faculty members, all of which pleases Elzinga, one of ECO's earliest supporters.
"We have something that we can offer our students now that I wanted from the get-go. The sort of thing that students got in the Comm School, but we didn't offer here," Elzinga said. "A place where students would learn the difference between economic consulting and management consulting, between commercial banking and investment banking. …Now what we have in the Economics Career Office is a database — developed largely from scratch — where we know where our graduates are, what they're doing, what professions they're in. We have seminars and programs where students can learn about different types of job market opportunities."
"All that I hoped would happen has happened."
Elzinga also credits ECO and Jones with changing the culture of his academic department. Faculty now have the resources to take more of an interest in their students' post-graduation prospects, he said.
"The students I think now see this as a more caring, a more nurturing department," he said.
"Jennifer Jones is a gem. And what I mean by that is simply super at what she does. Not just at developing the program but in the care she that she has for students, the resources that she's developed for them, the creativity that she's put into the Economics Career Office." — Ken Elzinga, Robert C. Taylor Professor of Economics
Helping students see the possibilities
Rachael Tomlinson arrived on Grounds four years ago convinced she would major in biology and go on to pharmacy school. Last spring, when she decided to add economics as a second major and began meeting with Jones to see how she could combine her lab experience and interest in economics in a new career path. The Economics Career Office helped the Nashville, Tennessee native secure an internship last summer with Longitude Capital, a healthcare venture capital firm. (UVA parent, College Foundation board member and Longitude co-founder Juliet Bakker has worked with ECO to provide summer internships the last four summers, Jones said.)
"Going from biology to an intense venture capital firm was a bit of a jump for me, but I made some great connections and learned how to network," said Tomlinson, who helped to create financial models on a company researching T-cell therapies for autoimmune diseases.
Tomlinson said she eventually hopes to work in the fields of healthcare administration and healthcare economics after graduating, and she credits ECO for helping her to discover the possibilities within those specialized fields.
"Searching for jobs and preparing for interviews can be overwhelming, but the fact that Economics has its own career office means that they have more time and space to individually reach out to people," Tomlinson said.
Another student who changed potential career paths while at UVA has already secured a full-time job with ECO's help since graduating in December. Yuying Zhang came to UVA from Shenzhen, China to study engineering. She eventually decided to transfer to the College and graduated last semester with a double major in economics and computer science. She is working in New York City now with an asset management firm, researching emerging markets.
"Switching from engineering to economics was a really big transition," she said. "But sitting down with ECO and my professors really helped me analyze and understand my priorities. I wasn't that confident in my interpersonal skills at first, but ECO was able to help me navigate this whole process."
Circle of success
Alumni support has proved critical to the expansion of ECO's programming. Alumnus Drew McKnight, an Economics major in 2000, recently supported ECO through a philanthropic gift to its endowment to name it the Edwin T. Burton Economics Career Office, in honor of Professor Ed Burton's hands-on advising of students regarding career plans and goals. Additional funding would enable adding another ECO staff member and ramp up employer relations efforts further, Jones said. Recent student survey responses indicate that economics majors want more opportunities to talk with potential employers.
Alumni also help fuel ECO's success by returning to Grounds as job recruiters and presenters at student workshops. In February, ECO's annual Economics Undergraduate Career Forum was a virtual event (due to COVID) that provided essential connection points for third- and fourth-year economics majors seeking professional advice and networking opportunities with graduates who were not so far removed from their own days at UVA.
Gregory Johnson credits Professor Elzinga's "Intro to Microeconomics" class with convincing him to switch from the pre-med track. He graduated from UVA in 2018 with a degree in economics and a minor in statistics, and he works in Washington, D.C., with the Berkeley Research Group, a global consulting firm. Johnson said ECO was tremendously helpful in his getting his resume together and preparing for job interviews. Since graduating, he has remained in contact with the Economics Career Office and has served on numerous career panels sponsored by ECO.
"I always look forward to meeting students over Zoom, getting to know them and helping them out with resume reviews and interview prep," he said. "The best opportunities come through networking and learning about the types of things alumni are involved in, and I'm happy to give back that way."
If you'd like to get involved with the ECO, contact Jennifer Jones at jlh7b@virginia.edu.