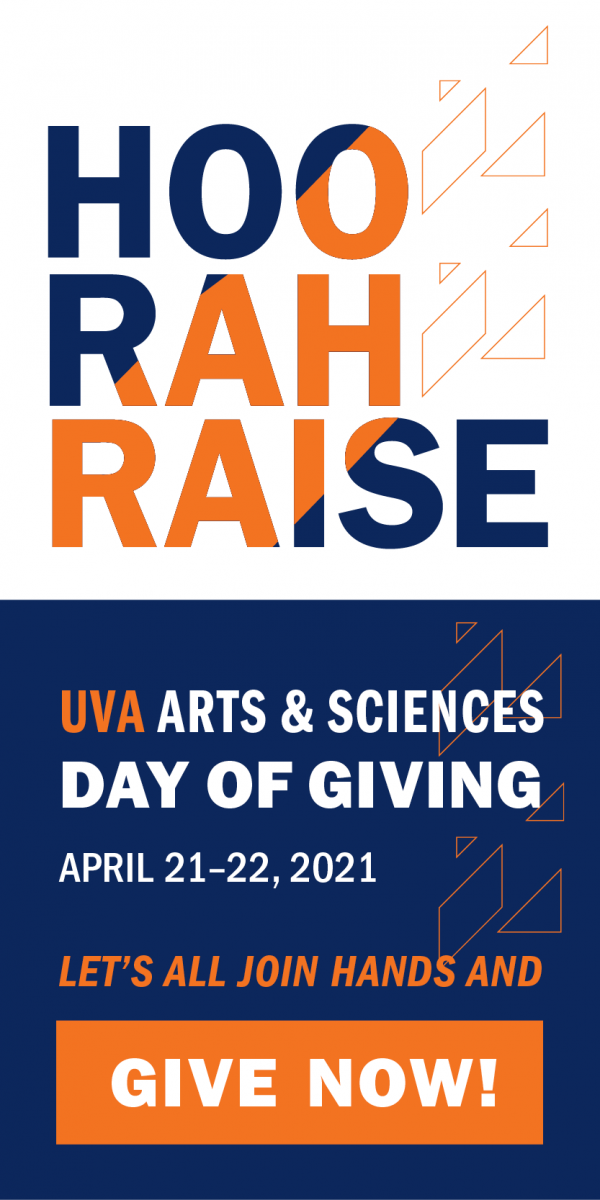 As the job market and graduate programs become increasingly competitive for students interested in careers in the STEM fields (science, technology, engineering and mathematics), undergraduates are looking for a way to get a head start. For a select group of students in the College of Arts & Sciences, the chance to contribute to real scientific research is the answer.
Since 2003, College Science Scholars (CSS), the honors program for outstanding students in the College's sciences, technology and mathematics departments, has been helping them do just that. The program, which is funded by a combination of grant money and donor contributions, isn't nearly as well known as other honors programs at UVA, but it plays a significant role in helping undergraduates find research opportunities that match their interests, and at the same time, it's playing an important role in helping UVA advance its reputation as a leading research institution.
Outstanding first-year students are invited to join the program based on the strength of their college applications, but those who show promise and an interest in the program can be considered for admission in their second year with a faculty member's recommendation. Once they are admitted to the program, students enroll in both a fall and spring seminar where they meet with 25-30 of UVA's internationally renowned science faculty, hear talks about groundbreaking research, visit research labs, and make connections that give them the chance to join a research team as early as their first semester at UVA.
"It's tough to say that undergrads need to do research if they want to get into graduate school. It's not an absolute requirement, but in reality, the ones with research experience are going to move to the top of the list."
"In the small group seminars, the professors are eager to talk to the students. They make everything accessible, and it's just phenomenal," said Karen Schmidt, an associate professor in the Department of Psychology who directs the program and mentors its students with the help of co-directors Howard Epstein, a professor in the Department of Environmental Sciences, and Jim Demas, emeritus professor of chemistry. "The students love it, the professors have the opportunity to do some mentoring, and many of them end up with superstar students working with them."
Another benefit, according to Epstein, is that for students applying for graduate science programs, having research experience on their application can make all the difference against stiff competition.
Epstein adds that having undergraduates be a part of the research process is just as important for the researcher as for the student. "It's tough to say that undergrads need to do research if they want to get into graduate school," Epstein said. "It's not an absolute requirement, but in reality, the ones with research experience are going to move to the top of the list."
Caitlin Wylie, an assistant professor of science, technology, and society with UVA's School of Engineering who led a study funded by the National Science Foundation on students' impact on research, said, "Students are a crucial part of our research workforce at UVA and at universities in general."
Her findings suggest that it's not just the students who benefit. In the labs, undergraduates are typically paired with graduates, and more often, undergraduates with fresh perspectives and curiosity about the work they're doing are challenging their lab partners to think more deeply about their work.
"I found that undergraduates are leading the grad students to understand their field better, which is an enormous contribution," Wylie said.
This year, the CSS program hosts 66 students, representing 14 disciplines across science, technology and math, and by their second year in the program, 96% of them have active experience in some form of research at the University.
Discovering Career Paths
In his second year as a biochemistry and math major, College Science Scholar Rohan Parikh works with Anindya Dutta, an award-winning biochemist and cancer researcher in the Biochemistry and Molecular Genetics Department of UVA's School of Medicine. Parikh is a member of a research team investigating how the information contained in genetic material is translated into proteins, the building blocks of body tissue. His role is to analyze large sets of data looking for clues that will help the team understand how the process of gene expression is regulated by the body, which could lead to new treatments for a disease like cancer that occurs when that process goes awry.
"The reason I got into the lab is because of the College Science Scholars program," Parikh said. After Dutta gave a talk at one of the seminars open to students in the program, Parikh had the chance to talk to Dutta about his interest in the research.

Second-year biochemistry and math major Rohan Parikh (left) is a genetic researcher with UVA's School of Medicine in Professor Anindya Dutta's (right) Lab.
"That really helped me get a foot in the door," Parikh said.
"Rohan brought his pre-existing knowledge of an artificial intelligence approach to my lab and used it beautifully with the help of an M.D./Ph.D. student, Briana Wilson, and an assistant professor of data sciences, Dr. Fenix Huang, to identify gene targets of a family of short RNAs my lab has discovered, called tRFs," Dutta said. "It is a very interesting approach, one that we would not have attempted without the participation of this wonderful undergraduate from the College Science Scholars program."
After graduation, Parikh plans to pursue both a Ph.D. and an M.D., and his research experience is helping him envision a career path that combines his interests in both research and clinical practice.
"I'm really interested in the type of research that's directly applicable to clinical practice," Parikh explained. "I'm interested in genomics and doing data analysis to figure out the best way to treat a certain patient and directly applying results from the laboratory to the clinical setting."
Cultivating an Interdisciplinary Perspective
As a third-year majoring in environmental sciences and chemistry, Jacob Bushey works with assistant professor Sally Pusede, whose research focuses on the impact of ozone on the ability of plants to convert light into energy through the process of photosynthesis. By observing the effects of elevated ozone levels on the plant metabolism, Bushey and Pusede are hoping to understand how pollutants are changing our ecosystems.
Bushey joined the College Science Scholars in his second year after expressing his interest in doing research to one of his professors who recommended him for the program.
"I've grown up wanting a career in science and have been very compelled to address environmental issues from a young age. And I have always seen research as sort of the most direct way to do that," Bushey said. "When I realized that you can start as early as an undergrad, I really wanted to get involved."

A third year majoring in environmental sciences and chemistry, Jacob Bushey (left) studies the impact of ozone on photosynthesis as a member of Professor Sally Pusede's (right) Lab.
Bushey's long-term plan is to pursue a Ph.D. in atmospheric chemistry, and he feels that an important part of that journey will be in cultivating the ability to see how his work will fit into the bigger picture.
The College Science Scholars program has given Bushey the chance to engage with students in other disciplines. He spent his summer doing a literature review of articles related to his work and found that was essential to be able to see the subject from new perspectives.
"There were papers written by chemists, but then there are also the biologists who want to know how ozone is affecting plant life, and then there are the health experts who are asking what does this do to people with cardio respiratory illnesses, and then there's the economist asking how much of our economy is going down because of crop losses due to ozone, and all of these stakeholders coming to the table and saying that we know this is a problem, and we need to work together to find a solution," Bushey said. "So much is interdisciplinary these days. You need to learn to talk with people from other disciplines, and that's a really valuable thing that CSS has given me."
Building a Professional Network
Third year Sophie Wong is an environmental sciences and biology major who works with Amanda Gibson, an assistant professor of biology whose research focuses on evolution and ecology. Wong is currently compiling data that will shed light on how the relationship between coral and the algae that lives inside it affects the coral's tolerance for temperature changes. The results could help her understand why climate change is one of the most significant threats to the health of coral reefs today and what can be done to preserve them.
Initially, her research took her to the Florida Keys to work on a coral restoration project, but since the outbreak of COVID-19, she has continued her research by reaching out to other scholars for help in obtaining the samples she needs. After graduation, Wong plans to pursue a career in higher education to teach and continue doing the research she loves. Getting a head start on building a professional network will help make it much easier to get into the graduate program of her choice.

Sophie Wong (left), a third-year environmental sciences and biology major, is working in Professor Amanda Gibson's (right) Lab in the Department of Biology to understand the impact of climate change on the world's coral reefs.
"Getting to know some of the leading researchers in the field has been really helpful and will be really helpful when I apply to grad school," Wong said.
And Wong isn't the only one benefitting from her research.
"I've loved having Sophie as a member of my lab," said Amanda Gibson.
Gibson's lab is a relatively new one on Grounds, and she credits her undergraduate researchers with helping create her lab's dynamic culture.
"My lab quickly grew and developed its own energy and culture because of undergraduates," Gibson said. "They bring so much enthusiasm to our group that they quickly made our lab group feel like a full, cohesive unit. I'm grateful to them for that."
"One of the best things about undergraduates is that they simply don't know as much yet, and in the right environment, they aren't afraid to say so," Gibson added. "They push us more established researchers to explain concepts or skills that we wouldn't question otherwise, maybe because we're afraid to admit we don't know, or maybe because we've been trained to take certain assumptions for granted. And they're fearless. They're not so worried yet about deadlines, prioritizing projects, big career steps. They're here to learn. I find that undergraduates are often more willing to entertain bold, daunting tasks or ideas, and that keeps us all more ambitious about what we can achieve."